Pocket Bite RPG - Tools
Pocket Bite Tools Initial Release!
---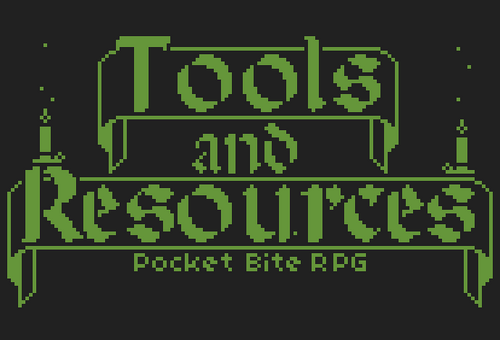 Tools and resources for Pocket Bite!
This is just the initial release which means in the future I will continue to add more and more resources. I already have plans to improve on the dice roller app and eventually, this is where I will upload the Pocket Bite RPG companion app! This companion app will be a complete stand-in for any kind of character or campaign tracking players will need while playing Pocket Bite. I have big plans for the app but it will take some time before I have the resources to create it. Meanwhile, I hope you find these resources useful :)
Pocket Bite d20
The dice roller app should suit all your needs when playing Pocket Bite RPG as the game only requires the roll of a d20 but to make the app more useful for others, I will be adding in the 6 other dice which are standard for other pen-and-paper games.
It's also worth knowing that I only have a PC to test applications on right now so it would be a big help if others let me know when a build for Mac or Linux is not working properly so I can look for ways to fix it.
Character Sheet
This is the first iteration of the Pocket Bite character sheet but I made sure it includes everything you will need to record while playing the game. There are two versions of the sheet, a fallible one to use digitally and a printer friendly one to write on by hand.
I hope you enjoy :)
Files
Pocket Bite RPG - Character Sheet (Fillable).pdf
108 kB
Jan 11, 2019
Pocket Bite RPG - Character Sheet (Printable).pdf
296 kB
Jan 11, 2019
Pocket Bite d20 (Win x86).zip
11 MB
Jan 11, 2019
Pocket Bite d20 (Win x64).zip
13 MB
Jan 11, 2019
Pocket Bite d20 (Mac OS X).app.zip
27 MB
Jan 11, 2019
Pocket Bite d20 (Linux).zip
30 MB
Jan 11, 2019
Get Pocket Bite RPG - Tools