Pocket Bite d20
A downloadable game for Windows, macOS, and Linux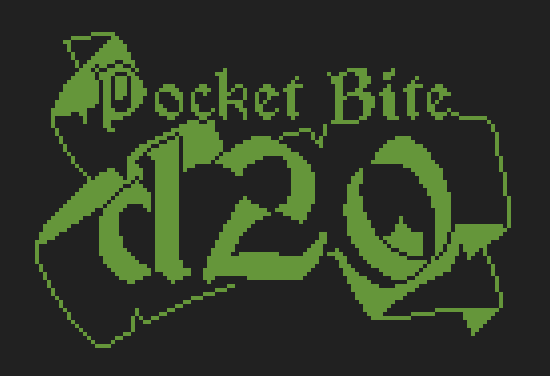 WELCOME!
Pocket Bite d20 is a full featured, simplistic yet satisfying dice roller app created for pen-and-paper role-playing-games! It includes all the standard dice usually used for an RPG as well as the d2, more commonly known as a coin ;)
On desktop, the application gives you the freedom to scale the window to any size you need even while running so you can keep your undoubtedly organized GM session as neat and tidy as ever!
POCKET BITE?
This dice rolling app can be used for any game but was specifically created for Pocket Bite RPG, an easy to understand and quick to learn, storytelling, multiplayer role-playing game (RPG). To learn how to play, follow the link below to the Pocket Bite website where you will find all the rules as well as many helpful resources to get you started!


Download
Click download now to get access to the following files:
Pocket Bite d20 (Win x64).zip
13 MB
Pocket Bite d20 (Win x86).zip
11 MB
Pocket Bite d20 (Mac OS X).app.zip
27 MB
Pocket Bite d20 (Linux).zip
30 MB
Comments
Log in with itch.io to leave a comment.
Will there ever be a version for android

d2s not added to total counter at top of screen.
The d2 (or coin) is included as a "heads or tails" throw and not to be added to the other dice rolls since either result of the coin toss has no inherent or objective value.
However, you did get me imagining an equation that somehow added the coin result to the other rolls like "2 +💀= ??" which is kind of fun.
Is there a way to clear the screen, in order to re-roll?
By clicking the resting dice, you can remove them one by one. I don't think I added a clear all function but that would be a nice idea :)
A big "clear all" button would be nice, because sometimes I like to just fill up the screen with as many dice as possible, lol