Plight of the Innocent - A Story for Pocket Bite RPG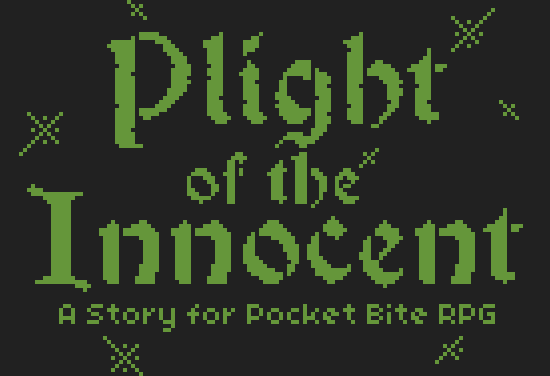 PREMISE
Length: Short
Style: Interaction
Content: Gloomy
The harbor town of Veilend has been stricken with a plight which has since silenced its once bustling streets. Every night for the past several nights, a mysterious presence visits the town in search of children and by morning leaves without a trace. This has left the whole town gripped by fear and paranoia as nobody knows what is responsible and who will be next. Having just moored in the harbor of Veilend, it is up to the players to investigate the mystery which has afflicted the town and find out what's been happening to their children.
Click the Download Now button at the bottom of the page to get the full Plight of the Innocent.pdf and begin your adventure!
HOW TO PLAY
Plight of the Innocent is a story campaign for Pocket Bite RPG, an easy to understand and quick to learn, storytelling, multiplayer role-playing game (RPG). To learn how to play, follow the link below to the Pocket Bite website where you will find all the rules as well as many helpful resources to get you started!
MORE RESOURCES
Pocket Bite features all kinds of extras to make playing easy and more enjoyable! On the Tools page here on itch.io, you will find all sorts of things like character sheets and a dice roller app you can use while you play!

Download
Click download now to get access to the following files:
Plight of the Innocent.pdf
473 kB